Sandwich Bottom Tope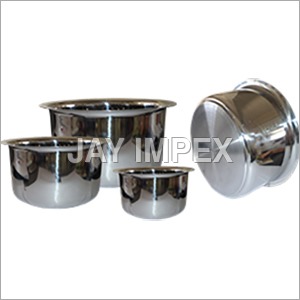 Sandwich Bottom Tope
Price And Quantity
Product Specifications
Product Description
Sandwich Bottom Tope is constructed with two pots, typically made of high-quality stainless steel, with one pot fitting snugly inside the other. The bottom of the inner pot is designed to have a sandwiched layer of conductive metal, such as aluminum or copper, which helps distribute heat evenly and prevents hot spots. This unique design allows for gentle and precise cooking, making it ideal for delicate recipes, melting chocolate, preparing custards, and more. The tope often features sturdy handles for easy handling and a tight-fitting lid to retain heat and moisture.
Frequently Asked Questions:
Q: How does the Sandwich Bottom Tope work?
A: The Sandwich Bottom Tope works by utilizing indirect heat through the process of double boiling. The outer pot is filled with water, which is heated, and the inner pot, containing the food or ingredients, is placed inside. The water acts as a gentle and indirect heat source, preventing direct contact and ensuring controlled and even heating or melting of the contents.
Q: What are the advantages of using a Sandwich Bottom Tope?
A: The Sandwich Bottom Tope offers several advantages. It provides gentle and controlled heat, minimizing the risk of scorching or burning delicate foods. It is suitable for melting chocolate, making custards, sauces, and other heat-sensitive recipes. The even heat distribution helps maintain consistent temperatures, preventing the food from overheating or curdling.
Q: Can I use the Sandwich Bottom Tope on different heat sources?
A: Yes, the Sandwich Bottom Tope is generally compatible with various heat sources, including gas stoves, electric cooktops, ceramic hobs, and induction cookers. However, it's important to check the manufacturer's instructions or specifications to ensure compatibility with specific heat sources.
Q: Is the Sandwich Bottom Tope easy to clean?
A: Yes, the Sandwich Bottom Tope is typically easy to clean. Most models are dishwasher-safe, but it is recommended to hand wash them with mild detergent and warm water for longevity. Avoid using abrasive scrubbers or harsh cleaning agents that may damage the surface or the sandwiched bottom layer.
Q: Can the Sandwich Bottom Tope be used for other cooking techniques?
A: While the primary purpose of the Sandwich Bottom Tope is for double boiling and gentle heating, it can also be used for other cooking techniques such as steaming and simmering. The precise and controlled heat distribution makes it versatile for a range of cooking methods.
Trade Information
Cash Advance (CA), Telegraphic Transfer (T/T), Cash in Advance (CID)

100 Per Day
Australia, North America, Eastern Europe, Central America, Middle East, South America, Western Europe, Asia, Africa